✨WORKSHOPS FEATURES FOR 10/01/2023✨
The workshop is here! Come join us and let's handcraft some jewelry. You'll learn some wire wrapping techniques by creating a few styles of earrings and a bracelet.
We'll be using a vast variety of mini crystal smooth chip, round stone beads and charms. Gold and silver wires will be provided.  
✨I want to introduce you to something fun, new, and fashionable inside of a beautiful space.✨
Featured Stones

Come see what stones fit your healing needs
Thank you for all of the support!

Our Last Event
Just Me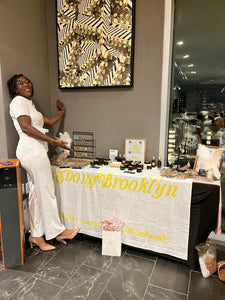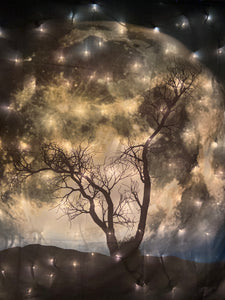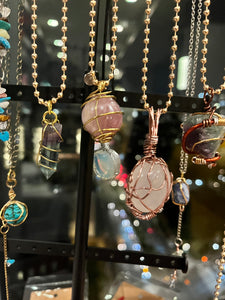 Making the base for Ebony Butter!!
This is the best of the best body butter!! Use on your Body, Face, Hair, Lip!! You name it!! Use it daily for the best results. Use in combination with our 3in1 Aromatherapy Oil. Keeps your skin replenished and hydrated with consistent use and for clearer smoother skin. Clears eczema breakouts in 2-3 days. Most importantly, keep already clear skin, glowing. Custom made to order!
Testimonials
I love using EbonyBrooklyn products on myself and my children's skin. They keep our skin feeling soft and beautiful. I love that they are made with natural products. The jewelry is made with love and are very beautiful handmade pieces and come beautifully packaged with quick delivery. Thank you EbonyBrooklyn.

Candace
Hello there. Just checking in on you. Did you receive your product ok?
Yes... I brought it for me, but been using it on my son. He has eczema.. Girl two days it clear up!! Thank you so much for a beautiful product!

Tashika A
Your cream is the safest for my sons skin! I used your cream on a very bad rash he had and the redness went down almost immediately! I am so grateful for you and your products.

Jessica P
Love you Shir and I'm super proud of you and all that you're doing with your products. The stuff you make is amazing and I love that you love us enough to give and sell us these products 🥰 you're doing an amazing job and I promise you the stuff can and WILL change lives especially with people dealing with eczema!! I haven't had to use any medicinal or store bought creams since I started using EB on my children's eczema and I love you for that ❤️

C.I.
Events

Vendor ship and Workshop events
Events
Vendor ship and Workshop events